ACCES, PARKING
Contern is situated around 10 km Eastern from Luxemburg-town and at 5 km from Luxemburg-airport. To go there by car, you can take the exit number 7 ("Sandweiler - Remich") on the motorway A1 Luxemburg - Trier, then follow the National road N2 in direction of Sandweiler and Remich until the place called "Scheedhaff". In this roundabout, you can take the CR234 to Contern. Start and Finish of the race are situated in the center of the village, next to the church.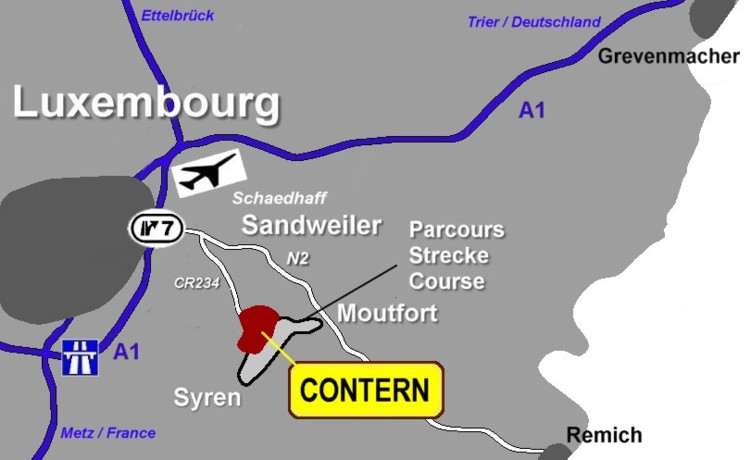 The train station of Sandweiler/Contern is about two kilometers away from the course and there are also buses going to Contern, even if there are some restrictions on the day of the race. Don't hesitate to use the public transports and have a look at the internet site www.mobiliteit.lu to plan your journey.
Start and Finish are located in the rue de Moutfort in Contern, next to the church.
Parking places for the riders are next to the Sports centre « Um Ewent » rue de Syren. During the races, they can only be reached by coming from Syren, in the south of Contern, or by following the course in the same direction of the race.
There are a few parking places for spectators inside of the village in Contern, but the traffic signs must be strictly followed. More parking possibilities for spectators are in the Industrial Zone in Contern, rue Weiergewann and rue Edmond Reuter. From this point, the course can be reached by foot in less than one kilometer. It is strictly forbidden to park your car alongside the course
The permanent office with registration and prize distribution is in the former primary school in Contern, rue de Moutfort next to the church.
Showers and changing rooms are in the Sports Centrum « Um Ewent » (40, rue de Syren in Contern)
Anti-doping controls can be performed by the Luxemburgish Anti-Doping Agency (Agence Luxembourgeoise Anti-Dopage - ALAD). If so, they are taking place in the changing rooms of the Sports Centrum « Um Ewent », situated at 41, rue de Syren in L-5316 Contern.