ACCESS, PARKING
Contern is situated around 10 km Eastern from Luxemburg-town and at 5 km from Luxemburg-airport. To go there by car, you can take the exit number 7 ("Sandweiler - Remich") on the motorway A1 Luxemburg - Trier, then follow the National road N2 in direction of Sandweiler and Remich until the place called "Scheedhaff". In this roundabout, you can take the CR234 to Contern. The course is on the left-hand side before arriving into the village of Contern.
The train station of Sandweiler/Contern is situated next to the course and the bus RGTR No 165 is also passing next to the Industrial Zone Weiergewan. Do not hesitate to use public transports and to have a look at the internet-site www.mobiliteit.lu to plan your trip.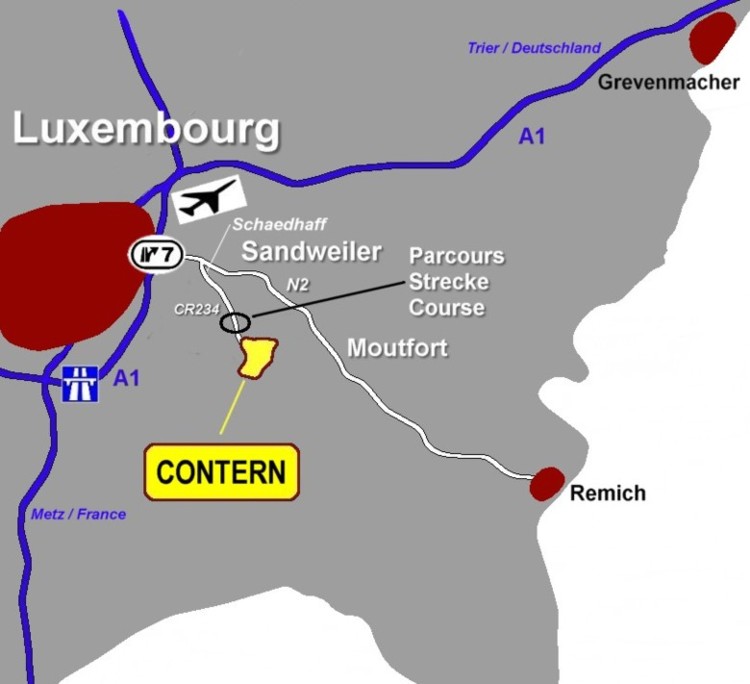 Parking for riders and spectators are situated in the Industrial Zone Rosswenkel (P1 - rue Daniel Grün and rue Albert Simon) and in the Industrial zone of the rue des Chaux (P2 – next to the train station Sandweiler/Contern). There are also a few parking place in the Industrial Zone Weiergewan (rue Edmond Reuter and rue Goell, but not on the race track). PLEASE NOTE that the course is closed to traffic from 11h30 to 19h30.


Start and Finish are in the rue Weiergewan in Contern
The permanent office, registration, prize distribution and all other official offices are in a bus situated near to the finish line, in the rue Weiergewan à Contern
Showers and changing rooms as well as possible Anti-Doping Controlsare in the sports complex « Um Ewent » situated 40, rue de Syren in L-5316 Contern.