CONTENDERS


The International Cyclo-Cross in Contern is approaching and, with less than 10 days to go, we are working on the startlist. Two of the main contenders and favourites of this 43rd edition are already known, they are Corne Van Kessel, Number 4 on the UCI world rankings at the beginning of the season, who will line up in the 13th Grand-prix de la Commune de Contern, and Helen Wyman, former double European champion, who will be at the start of the 30th Grand-prix COMAT.
| | | |
| --- | --- | --- |
| | | |
Corne van Kessel has already participated in the cyclo-cross of Contern, down in 2011 when he finished 9th as a young rider who was only at the beginning of his career, despite his titles of U23 Dutch National Champion and vice world champion in the Junior category, in 2009. Since then, the Dutch rider only got stronger and his 4th place in the latest UCI rankings witness of his regularity: no less than 32 (!!!) Top 10 places in the big events only for the 2016/2017 season, among them 15 Top 5 positions! In 2012, Van Kessel had his best season as an U23 rider with victories in the Azencross in Loenhout and in Essen, a silver medal at the European championhips as well as several podiums in World-Cup events and the National Championships. In his first year in the elite category, in 2013, he confirmed his talent with a second place in the Dutch National Championships, behind Lars Van der Haar. In addition to his numerous top places since then, the long term member of Sven Nys' Telenet-Fidea team also showed that he is capable of winning, with two vitories in the Centrumcross de Surhuisterveen for example, or last year's win in Pfaffnau, Switzerland. Van Kessel has shown a very good beginning of the season 2017/2018 so far, with a superb second place in the world-cup race in Waterloo, behind Mathieu Van der Poel, third places at the EKZ-Tour in Bern and at the night-cross in Woerden at the begining of this week or a fourth place in the Polderscross in Kruibeke.
| | |
| --- | --- |
| | |
The biggest opponent to Van Kessel for the win in Contern could well be his own team-mate Daan Soete, who is without doubt one of the biggest suprises of the beginning of the season. It was in the heat in the United States the the former Junior Belgian Champion rode into the spotlights: an 11th place in the first world-cup race in Iowa was followed by an amazing third spot in round 2 in Waterloo, when he finished in a very tight sprint for second place just behind ... teammate Van Kessel. After returning to Europe, Soete continued to impress with a very strong start in Ronse where he rode at the front of the race during a few laps before fading. In the sand of Koksijde, for the third leg of the world-cup, he did it just the other way round: after a very bad start, he moved up through the field form position 30 and finished in a superb 6th place, a position which he also ows in the world-cup overall standings. Soete has already been three times in Contern and he always performed well: 5th in 2012, 6th in 2014 and 4th in last year's event. Senne De Meyer, the surprise winner of last year's Bieles 2016 (not 2017!!) is also expected in Contern, just like a few other Belgians who have the advantage to already know our course: Hendrik Sweeck, brother of Laurens and Diether, took a modest 14th position last year, but has already won three regional races this season (Steenhuffel, Wiekeworst, Nossegem), Thomas Van de Velde was second of the Grand-prix COMAT as a junior in 2012 behind the future world champion Thijs Aerts and Jonas Smet, was fourth of this same Grand-prix COMAT 12 months ago.
| | |
| --- | --- |
| | |
Emil Hekele seems to be the most in-form rider of the Czech delegation since he finished third last week of the international cyclo-cross in Ternitz, in Austria, and finished on the same place at the Toi-Toi-Cup-race of Podbrezova, which was won by former world champion Tomas Paprstka. At nearly 40 years of age, evergreen Hekele, who made his first international appearence with a seventh place in the 1999 U23 world championships of Poprad, is far from fading and had one of his best ever seasons last winter. For example, he finished third in Petange, 4th at the Czech National championships and had a great 22nd place on the tough course at the Bieles world championships. During his long career, he has already been two times on the podium in Contern, down in 2004 and in 2006. Lubomir Petrus has had a rather quiet begin of the season with two Top 10 places in the Toi-Toi Cup, but he has the talent to do it better since he was among others European Junior champion and U23 National champion during his career. About 10 years ago, he was among the very best youth riders of the world and finished also on the podium of the junior world championships in Treviso, behind Frenchman Arnaud Jouffroy and a certain ... Peter Sagan.
On the startlist, there will also be Antonin Didier from France, 43th of the latest world-cup leg in Koksijde, as well as the best riders from Luxemburg who showed some very interesting battles in the regional races until now: Vincent Dias Dos Santos won in Brouch and in Kayl, Felix Schreiber won in Mersch and in Rumelange, while National champion Scott Thiltges, Misch Leyder, Lex Reichling and also Gusty Bausch were also in the mix for the podium at these races.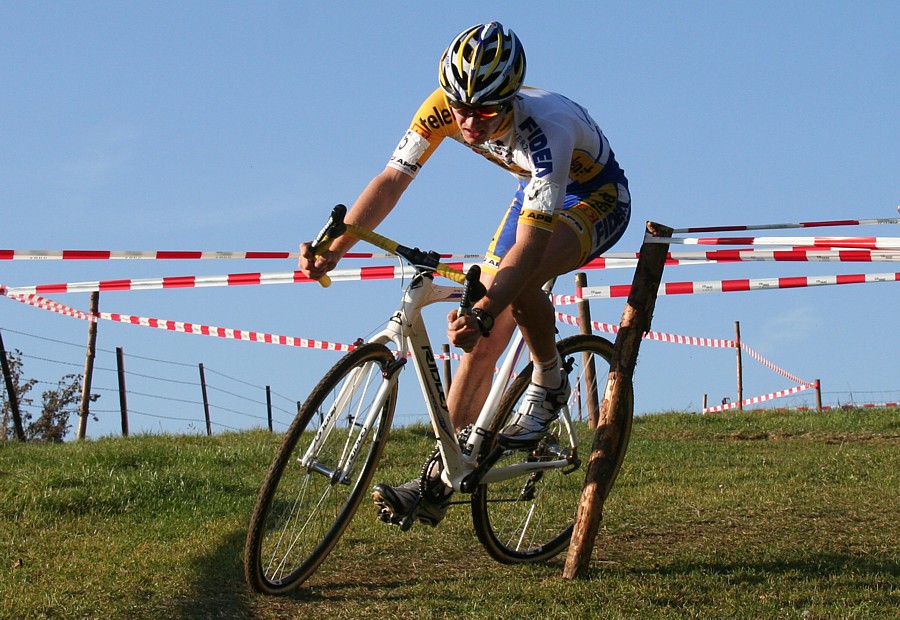 Corne Van Kessel at the Grand-prix de la Commune de Contern in 2011
Britain's Helen Wyman has already been in the business for a long time and, not only has she witnessed the amazing growth of women's cyclo-cross in the last years, but she has been one of its major actors. She alway has promoted women's cycling and asked for equal treatement for men and ladies in the sport, and has been supported in this task by some fantastic results: no less than 13 National titles and 2 European titles are on her account. After a first National championships in 2005, Wyman has chosen the difficult journey to Belgium on the following years, despite the lack of money and poor media exposure of the female races. But the results were there with some good placings in Superprestige races first and, after 2008, a great series of victories: three times the Koppenberg, two times Ruddervoorde, Gieten, Hamme-Zogge or Francorchamps among others. In 2012, Wyman won her first European championships at home, in Ipswich, and she was able to defend the title one year later in Mlada Boleslav, ahead of Nikki Brammeier and Lucie Chainel. After a difficult 2016/2017 season due to a broken collarbone and a rather medium rated beginning of the season this year, Wyman is getting stronger and stronger in the latest weeks with for example a seventh place in last week's world-cup race in Koksijde, podium places in Neerpelt and Ronse and two wins in the EKZ-Tour in Aigle, in front of both Pavla Havlikova and the UCI headquaters, and just a few days ago in the Nacht van Woerden, where she was stronger than Ellen Van Loy in the dark.
| | |
| --- | --- |
| | |
Another main contender for the win will be home rider Christine Majerus, multiple times National champion. After having shown her cross talent in the years 2014 to 2016 with two Top 10 places in the world championships (9th in Tabor and in Zolder), she had an extraordinary season last winter with four international wins (Petange, Meilen, Otegem and Leudelange), several podiums (Superprestige Francorchamps and Gavere for example) and, of course, a superb 7th place in the home world championships, in Bieles. She always has combined cyclo-cross and road racing with a team-time-trial world-champion title, a stage win in the Tour of Britain and the overall victory in the Festival Elsy Jacobs during the last two years, only to mention these. Christine resumed cyclo-cross last week-end with a victory in the regional race in Rumelange and will have to opportunity to test her legs for the first time this season in an international race in Contern, against riders who have already several races in their legs. The second-placed in Rumelange, Nathalie Lamborelle, was unbeaten on home ground this winter until then and will be wanting to confirm her 9th place from last year and an excellent 23rd position in the Bieles world championships.
There will also be lots of riders from the Netherlands this year with among others Linda Ter Beek, 3rd in 2016 and 5th in 2017 in Contern, Marieke Van Witzenburg, who has already won a regional race this season (Steenhuffel), Mascha Mulder, Laura Krans or the two Van der Burg, Esther who was 5th in Balan last week-end, and Nancy, coming from the road and who won at stage ahead of Elise Delzenne at the Czech Tour de Féminin this summer.
| | |
| --- | --- |
| | |
On the Belgian side, there will be two different generations present in Contern because next to the experienced Joyce Vanderbeken and Kim Van de Putte, there will also be half a dozen of young ladies. Former Belgian National champion Joyce Vanderbeken finshed on the podium in Contern last year, behind De Jong and Brand, and she opened her winter in the best possible manner, with a double win in the two first international races of the season at the Qiansen Trophy in China, and another two regional victories at home in September, in Stabroek and Izegem. A 17th place at last week-end's world-cup race in Koksijde shows that she hasn't lost all of her great early shape yet. More podium candidates could be Suzanne Verhoeven, who was 6th last year and opened her season with two 7th places at the Swiss EKZ-Tour (Baden and Aigle), Kim Van de Putte, winner of two regional races this season, Aurélie Vermeir, also winner of a regional race ans well as the very young Joyce Heyns, Belgian National champion in the U19 category in 2016 and Tess Van Loy, double Belgian National champion of the junior women (in 2016 and 2017). Czech rider Denisa Svekova was 6th last week-end of the international race in Ternitz, in Austria, while Cyriane Muller from France finished 7th in Lutterbach and has several Top 10 finishes in National Championships and the Challenge National in France on her account over the last years.
Let's not forget that the Grand-prix COMAT for juniors is also on the international calendar and will have in its line-up among others the Czech riders Jakub Riman and Josef Kunaseck who are both among the Top 60 of the UCI world rankings.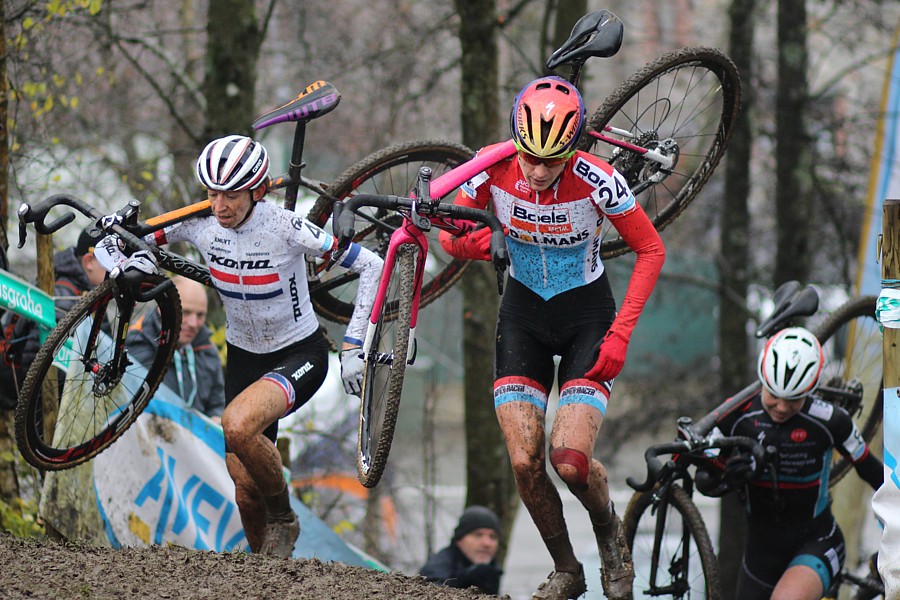 Helen Wyman and Christine Majerus at the Superprestige Francorchamps in 2015