Last year, the Grand-prix OST-Manufaktur turned into a duell between Luxemburg's two Continental teams, Team Differdange and Leopard Developement Team, but this shouldn't be the case this year. Both teams are sending riders to foreign races on the opening week-end and, if the team from Differdange lines up with a whole team in Bech, Leopard riders will be more rare in Luxemburg next Sunday. Dutch will be the prevailing language, it seems, with a lot of Dutch and Flemish riders coming to the race.
Participation in the 93rd Grand-prix François Faber will come from Luxemburg and the border region, but the 29th Grand-prix OST-Manufaktur has attracted this year lots of riders from the flat country because there were more Dutch and Flemish teams wanting to line up than the organizer could accept according to UCI and FSCL regulations. Two Dutch teams are expected in Bech this year: Wielervereinigung Schijndel and WPG d'Amsterdam. Among the first, Erik Lathouwers knows the course because he finished 20th of the race in 2014, but the team mostly consists of younger riders like former Dutch junior National champion Jurjen Varkevissers, winner of the Ronde van Lieshout in 2014. The other squad, from "Groot Amsterdam", also brings young riders to the start like Oscar Van Wijk, a true climber who has taken several Top 20 places in stages of the biggest junior races in Europe: Trofeo Karlsberg, Niedersachsenrundfahrt or Oberöstereichrundfahrt. A race that has been won overall in 2010 by Sebastiaan Pot, another rider from WPG Amsterdam who will line up in Bech and who finished 17th overall of the Tour de Moselle last year. More riders to watch will be track rider Max Van de Water or Daan De Groot, Dutch National Champion of the students and 2nd of the Ronde van Groningen, last year.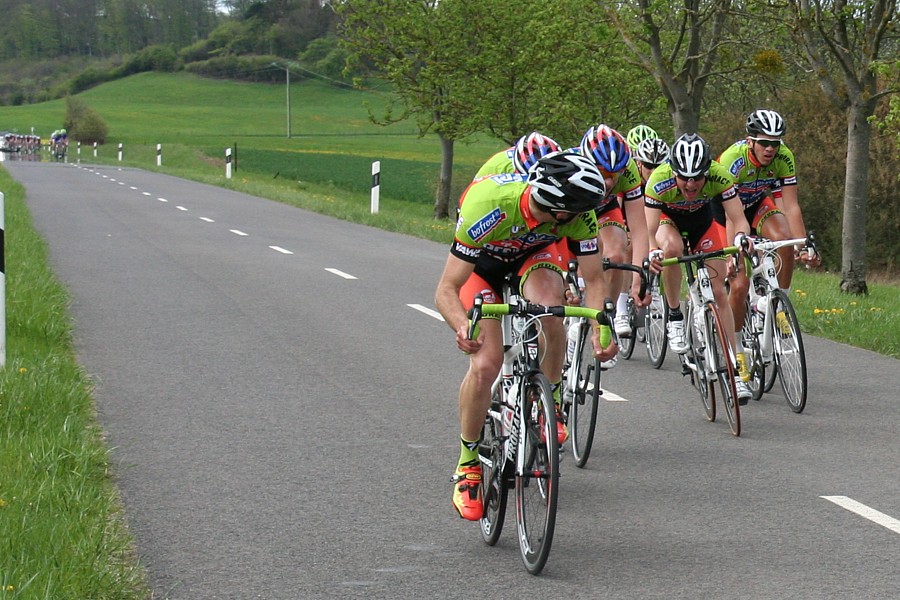 Prorace Cycling Team riding offensive in 2012

The Prorace Cycling Team from Kapelle-Op-den-Bos has also been active already on our hilly course, down in 2012, when they placed no less than 6 of their riders in the Top 10 at the end. This year, the Belgians will certainly also be amont the favourites with the brothers De Sy for example, Gert-Jan snf Vincent, respectively 3rd of the Mémorial Danny Jonckheere and 4th of the Ronde van Oost-Vlaanderen last year. Brent Van Renterghem has taken half a dozen of podium spots in 2015 while young Simon Daniels has won a junior race in Hoeleden in fron of several members of a United States National selection. Joshua Teasdale has a British National time-trial title on his winner list while Thimo Willems is a former stage winner of the famous 3 days of Groot-Axel junior race.

There will also be some of the best Germans from the border region in Bech like Andreas Fliessgarten, former sprint jersey winner at the Flèche du Sud, former Heizomat Continental rider Sascha Starker, Robin Fischer, regional Hessen champion in 2014 and 2015, as well as Frank Dressler-Lehnhof, a former rider from Differdange. Team Rockpalast Marcello will be led by Gero Walbrül, who was once 9th in a German time trial National championship won by Tony Martin (2014). There will be more team form the German border region lining up, like for example RSV Nassovia Limurg.

Coming from France will be also some very experienced rider from the border region like Antoine Guyot, 6tht of the Grand-prix OST-Manufaktur in 2013 and second of a stage of the Tour of Guyana one year later. Julien Laidoun is former pro from AG2R, who stopped cycling after a professional career that saw him shine in the Vuelta amongst other, only to resume a few years later. Last year, he animated the Grand-prix OST-Manufaktur until deep in the final before having to settle down against the Continental teams. This year, the Frenchman seems even stronger since he already won a race in Bescano in Spain and finished 4th overall of the Tour d'Arad around the dead sea in Israel (2nd of the first stage).

The organizers of course hopes to see a lot of home riders line up, but Luxemburg's hopes should mainly be focused on the Differdange team with Jan Petelin, a former Italian novice champion with Luxemburgish roots, Larry Valvasori, one of the revelations of the last season who rode during a long while in the leading group at the Grand-prix OST-Manufaktur, Ivan Centrone, who has a strong cyclo-cross season in his back, Tiago Da Silva, winner of last years amateur race at the Gala Tour de France, Filip Bengtsson from Sweden or Italian rider Devid Tintori, 2nd of a Tour of Algeria in 2014 and 5th of a stage in the Baby-Giro, a few years ago.