For a few years, the Grand-prix François Faber and the Grand-prix OST-Manufaktur took place on the 1st of May and despite other races on that day like in Frankfurt, this seemed like a very good solution for us. But for the next three years, the 1st of May will be either a Friday, a Saturday or a Sunday and will thus be part of the week-end where an internationl UCI women's race is organized in Luxemburg. The ACC Contern decided therefore to change the date again and this year, the Grand-prix OST-Manufaktur will take place on a date where it used to be already several years ago: as the very first race of the season in Luxembourg. The risk of bad weather is, of course, real for this period of the year, but it is largely compensated by another fact: after a long winter, everyone is motivated, from organisers to riders and officials, and has only one idea in mind: let the season start ...
As a regional road races,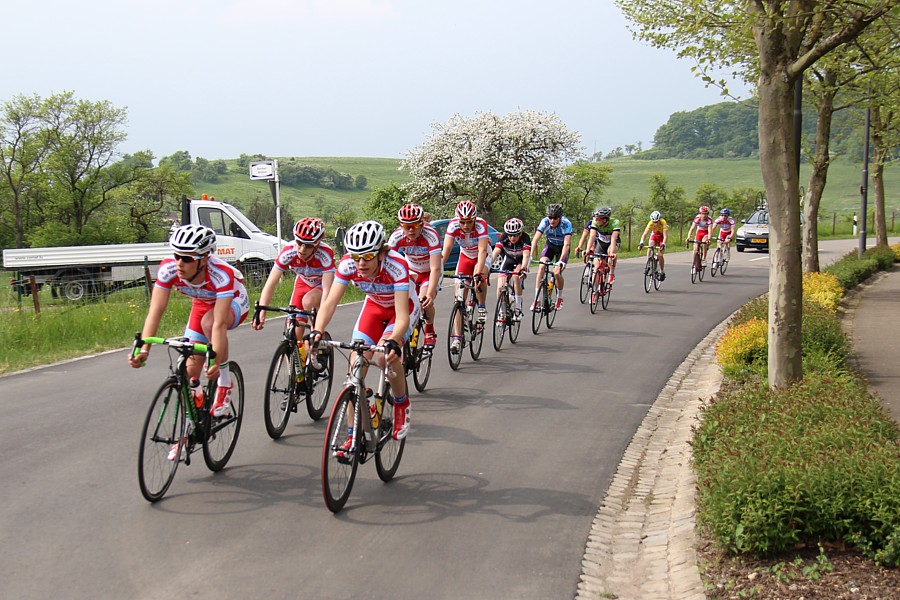 a lot of riders from Alzingen in 2014

the Grand-prix OST-Manufaktur and the Grand-prix François Faber will have on their start-list mostly riders from Luxemburg and from the border regions. The rules of the Luxemburg Cycling Federation however allow us to invite three foreign teams to Bech, and they will also traditionnaly come from the Benelux countries.

The French Cycling Federation will send a regional selection with the best juniors from the Lorraine region to the Grand-prix François Faber and it will be very interesting to see how Corentin ZANNINI, Gautier CHAUDEY, Quentin RICHARDOT, Yann LALLEMAND et Dylan GUINET will compete against the best home riders, coming for example from the UC Dippach team.

Even if they were defeated last year by Bob Schoonbroodt, the Continental Team Differdange applied in the last years a real domination to the Grand-prix OST-Manufaktur with four wins in five years. This year, the riders of Gabriel Gatti will once again be among the main favourites of the day, but the opposition from home teams will be severe since the Leopard Development Team has announced 7 riders for the team, amont them Belgian Brent Luyckx, who has already one victory behind his name this year in the regional race in Haringe, or Tom Wirtgen, the runner-up of last year's Grand-prix François Faber, who has shown himself in a long break on higest level two days ago at the Belgian Handzame Classic. Unlike most of the non-Continental contenders, Luyckx, Wirtgen and their team-mates Kevin Feiereisen, Marco König, Massimo Morabito, Patrick Olesen or Luc Turchi already have several races in their legs at this moment of the season, just like the riders from Differdange in fact.

The match between Leopard and Differdange will be witnessed by some foreign riders next Sunday, like for example the former professionnal AG2R rider Julien Laidoun, who will come to Luxemburg with a few of his team-mates from La Pedale Suippase. Several years ago, he did a strong Vuelta Espana, but later returned to amateur status, before disappearing completely from the cycling scene. This year, Laidoun is in the peloton again and he has a decent form since he finished for example 12th of Voves-Bonneval last week. Down in 2006, he was 5th of the Grand-prix François Faber in Hostert, behind a certain Ben Gastauer.

Dutch riders Luc Loozen and Tom Marcelis are also well known in Luxemburg. Last year, Loozen rode in support for his team-mate from TWC Maaslandster and eventual winner Schoonbroodt, before finishing himself in fifth place. Tom Marcelis from Team Cicli Basso had missed the good early break but finished very strongly with an 11th position as result in the end. Both of them will bring a few team-mates along.

A few team from the border regions like RV Oberbexbach are alos expected to line up in Bech, just like the best riders from Luxemburg.