The 17th Gala Tour de France takes place in the new urban quarter « um Belval », situated on the grounds of the municipalities of Sanem and Esch-sur-Alzette, in the South-East of the Gran-Duchy of Luxemburg.
There will be only limited access by car to the site after 12h00 o'clock.
You can find more details on the traffic restrictions HERE
We advise all the spectators to use the PUBLIC TRANSPORTS to come to the event.
The BELVAL-UNIVERSITE station is located just a few steps from the course and the trains of the Luxemburg railway company (CFL) will have enough capacity to bring spectators to the event and back. Detailed schedules are available HERE and on www.cfl.lu .
The busses from the public transport company TICE will be circulating during the whole event.
Please find more informations about access to the place HERE
Start and Finish are located in the rue du Rock 'n Roll, in front of the Rockhal building.
Permanent office : FONDS BELVAL building, 1, avenue du Rock'n Roll L-4361 Esch-sur-Alzette.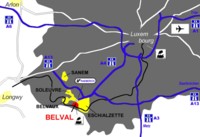 Please klick on a picture to enlarge